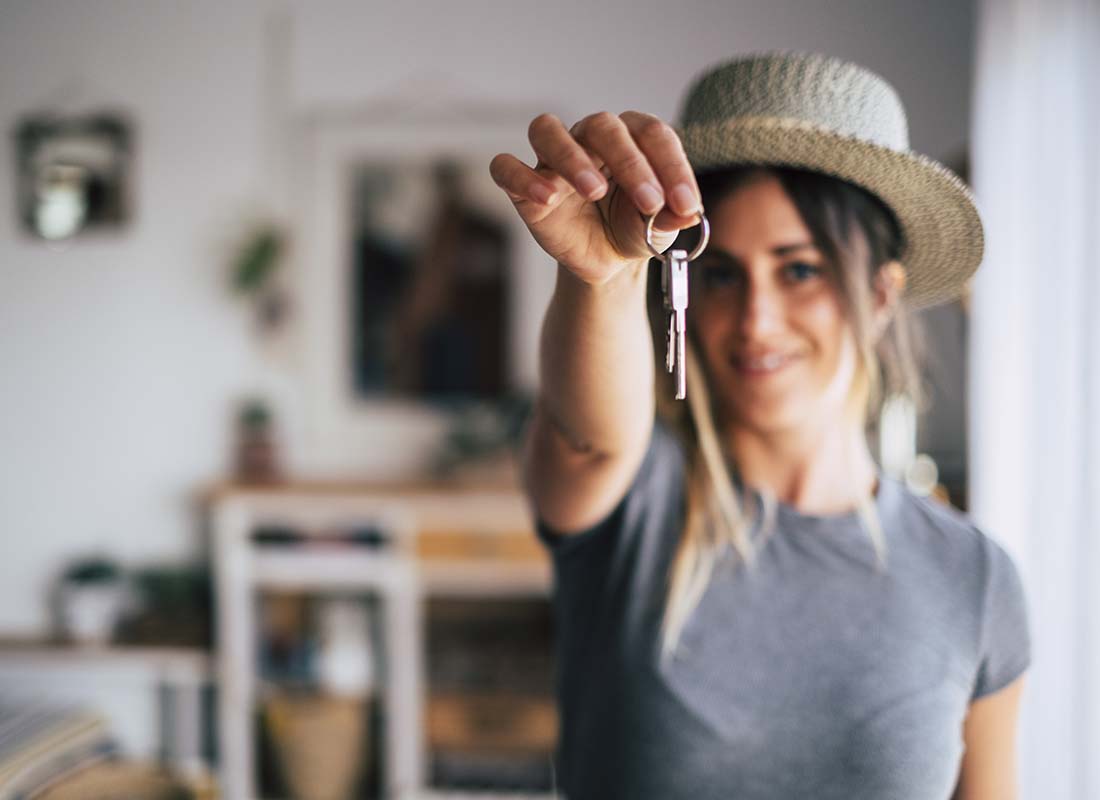 Competitive rates and great service to protect your rented home and property.
Combine Your Policies and Save
Some things just make perfect sense in pairs.
Get exceptional coverage with plans designed just for renters.
Coverage options from A-rated providers
Member focused coverage
Personal and local customer service
Step 1

Click hotspots.

Step 2

Discover risks.

Step 3

Get coverage.
Personal Property
Risk Factor
Unpredictable losses can occur to your property due to burglary, fire, water damage, storm, and more.
Solution
Personal property, such as furniture, rugs, TVs, stereos, clothes, and more may be covered under your basic insurance policy. However, items like jewelry, furs, silverware, antiques, collectibles, and other valuables should likely be insured separately.
Limits and Exclusions
Risk Factor
Some types of personal property are subject to limits of coverage under renters insurance policies. These limits vary by the type of property and by what caused the loss or damage. For example, jewelry, bicycles, collectible cards, and coins may have limited coverage or may not be covered.
Solution
Obtain a personal floater or schedule your valuable possessions to ensure you'll have the money to replace them.
Additional Living Expense
Risk Factor
If the building you live in has a loss from a covered peril under your renters insurance policy that makes your apartment or home uninhabitable, you will need to find somewhere else to live while the repairs are undertaken. This can be expensive and inconvenient.
Solution
Be sure your insurance policy includes additional living expense coverage. If you need to move out and rent another location, this coverage provides for the increase in living expenses–such as moving costs, increased food costs, and other expenses.
Liability
Risk Factor
You are responsible if you or a guest in your unit trips and falls or sustains an injury while on your property.
Solution
Be sure that you have adequate liability insurance to protect for claims made against you for bodily injury or property damage – such as a slip and fall or other allegation. Liability coverage also provides protection should you become legally liable for unintentional bodily injury or property damage anywhere in the world.
Medical Expenses
Risk Factor
You're responsible if a guest is injured while on your property and you may be required to pay their medical expenses.
Solution
Ensure your insurance policy covers this risk. In the event a person is injured in your unit, he or she can submit medical bills to your insurance company. Medical expenses are usually paid without a liability claim being filed against you, with typical limits ranging from $1,000 to $5,000.
Landlord
Risk Factor
You may not be able to rent the apartment or home if your landlord or property manager requires renters insurance and you do not have it.
Solution
Having a renters insurance policy allows you to provide a certificate of insurance to the landlord or property manager showing that you have the coverage required to rent the apartment or home.
Improvements or Betterments
Risk Factor
Any improvements or betterments that you have made to your unit are subject to damage.
Solution
Be sure to obtain coverage for improvements or betterments that you have installed in your apartment or home.
Contents Away from Home
Risk Factor
You may take your valuable property outside of your unit. For example, what happens if your laptop or golf clubs get damaged or stolen while traveling?
Solution
Be sure to add off premises theft coverage to your policy to cover your personal property while your belongings are away from your home. Auto insurance does not usually cover personal property stolen from your car.
Premises Liability
Risk Factor
You may be responsible for damage to your apartment or dwelling should you, for example, have a leaking sink or accidentally start a fire.
Solution
Be sure your policy has liability coverage that includes tenants legal liability or premises liability. Your landlord may require that you to have this type of insurance protection in place as a requirement before renting the property to you.
Protect your property and avoid liability with renters insurance from Truliant!
As a renter, you aren't responsible for insuring your home, but you likely still want the assurance and peace of mind that comes from protecting your belongings. After all, those items – including furniture, electronics, jewelry and valuable heirlooms – are an investment in your future. With renters insurance, you can ensure your personal property is protected as you begin building your financial future.
Truliant Insurance offers renters insurance plans and services to customers and members in North Carolina, South Carolina, Georgia, Tennessee, and Virginia. As an independent insurance agency, we partner with A-rated insurance providers and carriers to find you the best plan for renters insurance coverage that meets your needs.
Looking for standard home renters insurance that covers your valuables and possessions?
Seeking minimum renters insurance to meet your landlord's requirements? Or maybe you've got a beloved pet that gets a little wild sometimes and you need renters insurance to cover you in case it causes damage to your rental? Truliant Insurance can help with all these scenarios and more.
Just as importantly, renters insurance can also provide you with liability insurance.
If someone is injured while visiting your apartment, you could be on the hook for their medical bills. Getting liability coverage as part of your greater apartment renters insurance coverage can keep you protected from heavy fees. Rental insurance can also provide you with a safety net if your apartment is damaged or becomes unlivable. Loss of use coverage will help you pay for hotels, meals and other expenses until your rental home is repaired or you find someplace new to rent.
Don't live another day in your rental without proper coverage.
Contact us today to work with our insurance experts on finding a plan that works for your budget and life. Call us at 833-947-2939, email insura[email protected], or fill out the form below to get your renters insurance quotes online. After all, just because you don't own a home doesn't mean you don't have plenty to protect.
Renters Insurance Quote Request
Fill out this simple form to get a free renters insurance quote from Truliant. We'll review your information and be in touch soon to discuss your options and get you the coverage you need!
Request a Quote
Find out if you've got the coverage you need for your rented home!
Whether you're looking to protect your investment in a new home computer system or you're concerned about accidentally damaging your rental property, your renters insurance can cover a wide variety of needs.
To ensure you're getting as much coverage as you need to protect your interests, investments and financial future, its important to know all the different areas that you can protect and insure with a renters policy.
To learn about all that Truliant Insurance has to offer for renters, we invite you to explore our interactive graphic learning page. Select "Renters" from the top menu, they click on the graphic to discover the risk factors facing your rented home, as well as the insurance solutions available from Truliant.
Learn More About Insurance Coverage
Renters Insurance Frequently Asked Questions
Check out the FAQs below to learn more about renters insurance from Truliant. If you still have questions, don't hesitate to reach out. We're ready to answer all your questions and get you started on your coverage!
Step 1

Fill out the form.

Step 2

Review your options with us.

Step 3

Get the coverage you need.
Renters Insurance Quote Request
"*" indicates required fields